Boarding
---
Going away? Don't leave your dog in a kennel. We can care for your dog in our cageless boarding facility that provides a safe and reassuring home-from-home for your dog meaning you can rest assured they are always content and secure when you are away.
Dogs boarding with us become part of our family for their stay, and will benefit from human interaction with our friends and family as well as ongoing supervision from Archie and Charlie our golden labradors.
Our boarding services normally range from a single overnight to up to three weeks, but sometimes we have had doggy lodgers for longer.
Overnight boarding is £45


This is a 24 hour service and includes multiple walks and comfort breaks.
Those boarding for over a week will qualify for a discount.
Prior to boarding we ask you to bring your dog in to meet Archie, Charlie and myself (by appointment).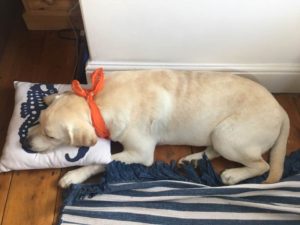 You can find all our contact details right here to book your appointment !