Welcome to London Walking Paws
I am a mum to three teenage kids (one now at University) and proud mum to Archie and Charlie our golden labradors. I established Walking Paws in Fulham almost by chance. I discovered more and more I was looking after pets for friends and family they struggled to find professional, yet loving care for their dogs. I realised I enjoyed it and the dogs did too, so my service evolved into a small full time business.
I am committed to providing the level of safe, exacting and trustworthy service I would always want for Archie and Charlie.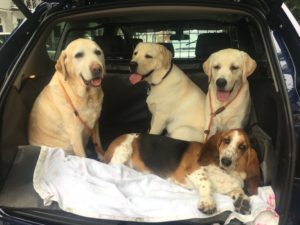 I pride myself in providing a tailored service to conscientious dog owners with only a small number of carefully vetted and friendly pets at any time. Walking Paws prides itself in accommodating your schedule and preference with the specific needs of your pet.
We always ask that all the dogs we take are fully up-to-date with vaccinations as well as deworming and flea treatments.  Your dog must not be aggressive or have an aggressive history.